---
Here at St. Fintan's B.N.S. we have two daily playground breaks.
The first is from 11.00a.m. to 11.10 a.m.
The second is from 12.45p.m. to 1.15p.m.
The boys are allowed run in our playground.
The school yard is zoned in a way that each classroom has there own area to play different activities in.
It is school policy that on the days when children are unable to play outdoors, that every classroom teacher will incorporate an extended classroom-based physical activity break into the school day.
We allow boys to play with different sports equipment during play time especially during Playground Leaders time on a Friday at lunch! The boys love the organised games on a Friday.
---
Playground Leaders
The boys from 5th and 6th class have divided into groups of two / three. Each group has been allocated a class or split class to play fun games and activities with on a Friday at lunch. The boys from 5th and 6th class are acting as great role models for the rest of the school and encourage physical activity in a fun and safe environment. The boys have their own bib vests with Playground Leaders enscribed on them and they have their own whistles. This helps for refereeing games. The boys certainly have taken charge of all the fun on Friday's lunch break!
---
Do Your Talking As You Are Walking!
On Tuesday's at break time at 11.00a.m., the whole school enjoy walking our Active Walkway Route as they chat to their friends along the way. The boys are encouraged to use this walkway route at anytime.
We also use our new Active Walkway Route.
---
The Daily Mile
All the boys participated in the Daily Mile for the four weeks of the month of March. At the start of the school day or after break time the boys ran for 10 - 15 minutes each day. 3rd to 6th class used the 5th and 6th class court and Juniors to Second Class used the 3rd and 4th class court. The boys themselves saw a difference in themselves by the end of the initiative.
---
Fundamental Movement Skills
Each month we focus on a new FMS and we change the display in our PE hall so that the teacher and children can see the different steps. The new skill is taught and then practiced through different games in Physical Education.
---
What Club Are You In? Survey Results
The boys received a survey asking them what sports/activities they are involved in outside of school. We made up a chart to show our findings! Lots of boys are involved in a range of different sports/activities outside of school and really getting their 60 minutes of daily activity in! We hope to see further increases as our Active School programme continues.
---
Maths Week
All the children in school over Maths week completed a Maths Trail around the school as well as Third to Sixth Class walking down to the town of Mountrath to complete a Car Park Trail. They had great fun doing Maths while keeping fit and healthy!
---
Halloween
All the boys in our school dressed up in their Halloween costumes. After they had a model show of their costumes, they did a "Do Your Talking as Your Walking" in their Halloween costumes, along the running route we use for our Daily Mile. It was a very cold day but the children were not long heating up doing exercise!
---
Rainy November
For the month of November, our school has agreed to complete at least one busy break throughout the school day in the classroom for the entire month of November! The busy breaks can include a running break, a dance break or a exercise break. The Active School Committee are happily taking charge of this with a chart hanging up on every classrooms door to be ticked off daily.
---
Christmas Jumper Walk
Our boys went to spread the Christmas spirit around the local town of Mountrath. They went for a walk around the town in their Christmas jumpers and went to the local park afterwards where each Active Committee member had to demonstrate with their own class a different activity for the whole school to complete. Each class had a game of tag afterwards and we headed back up to school singing Christmas songs along the way.
We even featured in Laois Today newspaper. Take a look - https://www.laoistoday.ie/2018/12/23/in-pictures-mountrath-school-get-into-the-christmas-spirit/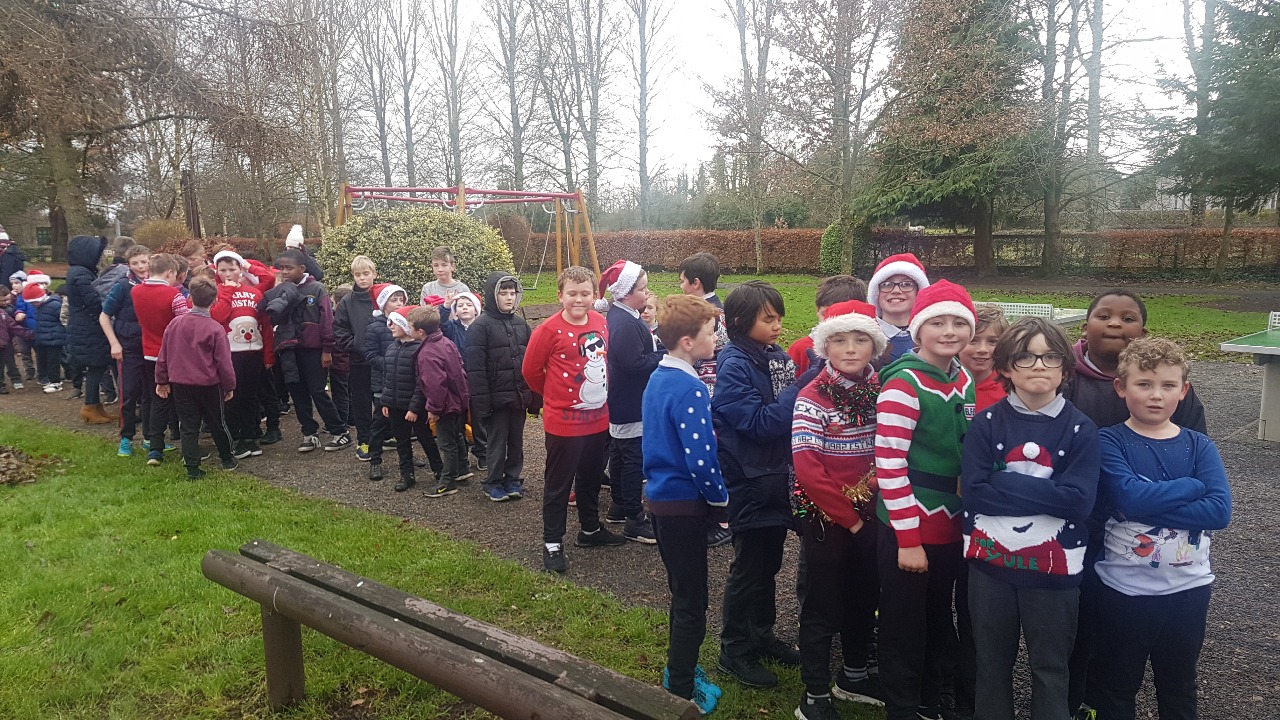 ---
Christmas Play
Our school completed a Christmas Play in the local hall. For weeks running up to the two shows, the boys walked up and down to the local hall to practice three times a week.
---
Visits to the Local Library
Our 3rd and 4th class visit the library in the local town of Mountrath every two weeks to renew or take out new books to read. They walk up and down from the school. One way of getting our steps in! All the other classes in the school attend various events held in the library too throughout the year. It is great to have such facilities in our town!
---
Physical Activity Breaks
The teachers incorporate short physical activity breaks throughout the day and in between lessons. We mainly use Go Noodle or 10@10 or Bizzy Breaks.
---
Active Lines
Our Active School Committee lead our boys into short bursts of activities after our two breaks in their class lines.
---